November 17, 2010
Germany: 3rd round of the German league.
The Hussars once again travelled to the capital of Germany, Berlin, to fight for third place in the East Division of the German League.
The third trip to our western neighbours was to have shaped the final standings in the East Division of the German league. The Hussars even had a chance to be third right behind BLAX and BHC who won all their games. The Hussars' rivals on the 14th of November were the Dresden Braves and BHC II.
The games were played at the BHC grounds again. The first game was played between the teams from Poznan and Dresden. The first quarter ended with the Braves in the lead. But the Hussars started to play at their level in the following quarters. Four goals scored by Pawel Hamrol, three by Janek Rydzak and one by Jedrzej Baginski let the Hussars win 7:5. But it was a very expensive victory... Two Hussars players got injured after this game and that left only eleven players.
The rivalry against BHC II was supposed to determine the third team in the autumn round. Since third place was at stake it made the game very aggressive. Another of Poznan's players got injured which left the Hussars without any substitutes. The hosts, supported by several players from the BHC team, scored 9 goals. The Hussars were able to score only 2, one each by Pawel Hamrol and Janek Rydzak.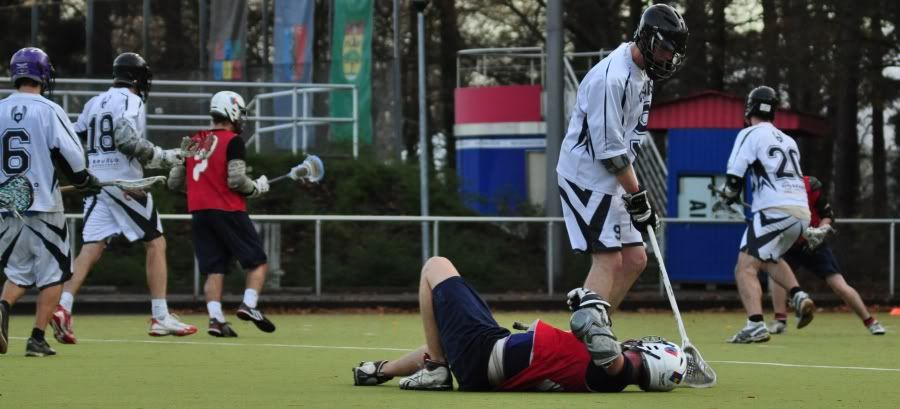 To sum up, the Poznan Hussars finished fourth in the autumn round of the East Division German league. As a new team playing in a league which is stronger than the Polish Lacrosse League, 4th place is satisfying. However players declared that in the spring they'll fight for higher standings!
We would like to thank Marta Dziekanska for another set of great photos from this event which you can find in the gallery right here.
Keep laxing!
Wróć do aktualności