September 1, 2010
Another lacrosse start-up in Poland
Lodz is to become the fifth lacrosse team in Poland. Poznan Hussars held a lacrosse clinic over the last weekend in the near Lodz.
Last weekend four players from the Poznan Hussars responded to an invitation from the developing Lodz team. They travelled not only in the geographical sense but also in time; where it all began. At first unaware of the experiences awaiting them... they would remember that weekend for a long time.
It all started with the idea of organising workshops for young lacrosse students from around Lodz. Tomasz Switala requested the help of more experienced players from other Polish teams. Only the Hussars accepted the challenge. After a brief talk, a mock indian village was chosen as the meeting place located near Lodz. This turned out to be the best choice from the list of options.

After filling up every square inch of available space in the car with equipment, we set out full of uncertainty and motivation, which proved to be a good appetiser of things to come during that weekend. We arrived with a slight delay, where most of the declared participants were already warming up in anticipation. After a brief greeting and introduction we began the hard part.
The two-day plan that was layed out during the drive there unfortunatley had to be slightly modified, as the first part turned out to be more challenging and Sunday's practice went into full swing only at 2pm. The pinnacle of the laborious instruction of basic game elements was the game played that evening, and which was unusually evenly matched and ended in a draw.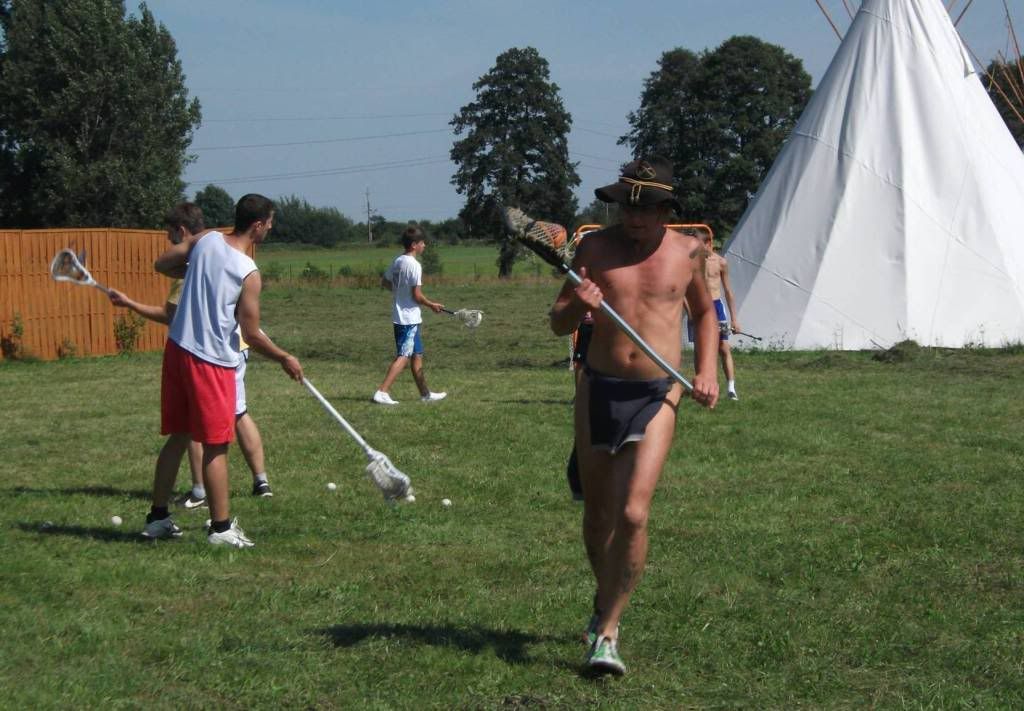 Despite the unending heat coming down from the sky, the future Raven players proved to be sharp and tough. They grasped the basics in a flash and quickly found analogies to the sports they've played earlier. This allowed them to undertake an ambitious fight till the very end with their more experienced colleagues to whom they had no inferiority complex at all. It's scary to think what they'll be able to achieve in the near future with a little pesistance and perseverance.
The atmosphere on the field was nothing in comparison to the aura beyond it. The sorroundings had an amazing effect on the senses which were enriched by Apache's colourful stories, and Jarek's musical talents gave the impression that we were preparing for a primordial lacrosse battle. This allowed us to better understand the history and motive behind the First Nations game we help cultivate and gave us several ideas for the future.
We kindly thank the hosts for the time we've spent together and count on further meetings.


Hokkahej!
Wróć do aktualności